---
Company class with T a n z t h e a t e r Adrian Look
We are proud to announce that we received funding from arts council england for our new project A thousand eyes.
As part of this R&D we are opening up our company classes from July 25 to August 5.
Get more information on how to book the tickets here:
Company Class with Tanztheater Adrian Look.
---
Ease – Extract of Seize the Day
Event organiser: Movement for Hope
Choreographer: Adrian Look
Dancers: Maria Ines Sousa, Morena de Leonardis and Daniel Potter.
Click image for more pictures: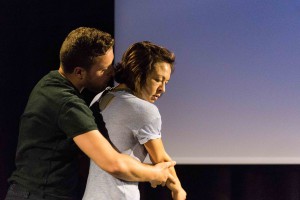 ---
A dancer's journey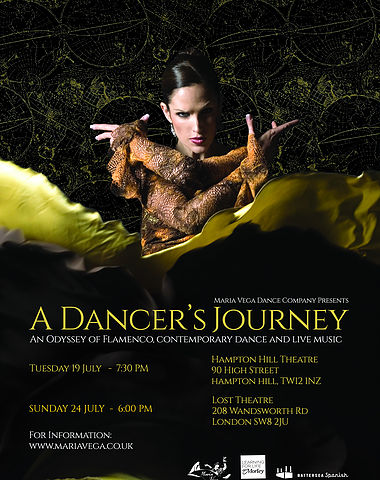 Maria Vega Dance and T a n z t h e a t e r Adrian Look are collaborating on an energetic and expressive fusion of contemporary dance and flamenco.
A DANCER'S JOURNEY AT THE HAMPTON HILL THEATRE
TUESDAY 19 JULY AT 19:30
GET YOUR TICKETS HERE
https://www.eventbrite.co.uk/e/a-dancers-journey-tickets-24340291467
A DANCER'S JOURNEY AT THE LOST THEATRE
SUNDAY 24 JULY AT 6:00
GET YOUR TICKETS HERE
http://www.losttheatre.co.uk/index.php/whats-on/calendar/11-current-shows/399-a-dancer-s-journey
A DANCER'S JOURNEY version with Morley College students
FRIDAY 22 JULY AT 19:00
SATURDAY 23 JULY AT 19:00
GET YOUR TICKETS HERE
https://www.eventbrite.co.uk/e/a-dancers-journey-tickets-25051948051?aff=es2
---
Improvisation Workshop at Siobhan Davies Studios
Note: We are on summer break until September 2016.
We have secured the beautiful roof studio at Siobhan Davies for our workshops on the Improvisation approach of German Tanztheater (Pina Bausch) every 2nd and 4th Saturday of the month.
Venue: Siobhan Davies Studios
Studio: Roof studio
Price:
£70 for ten dates (valid for S.Davies&The Place, Bank transfer only)
£25 for two dates
£15 for one class
Tickets:  Bank transfer
---
Monthly technique class at The Place.
Every first Saturday of the month we will host our German Tanztheater workshop at one of London's leading dance venues.
Details:
Dates:  6th August
Note: We are on summer break from August 6th until September 2016.
Time:18.00 – 20.00
Venue: The Place, Studio 6
Price:
£70 for ten dates (valid for S.Davies&The Place, Bank transfer only)
£25 for two dates
£15 for one class
Tickets: Eventbrite / Bank transfer
---
Classes at Morley College from September 2016