Book your spot to our
---
We are pleased to announce our brand new website for
Tanztheater Adrian Look.
Click on the logo to get to our new website: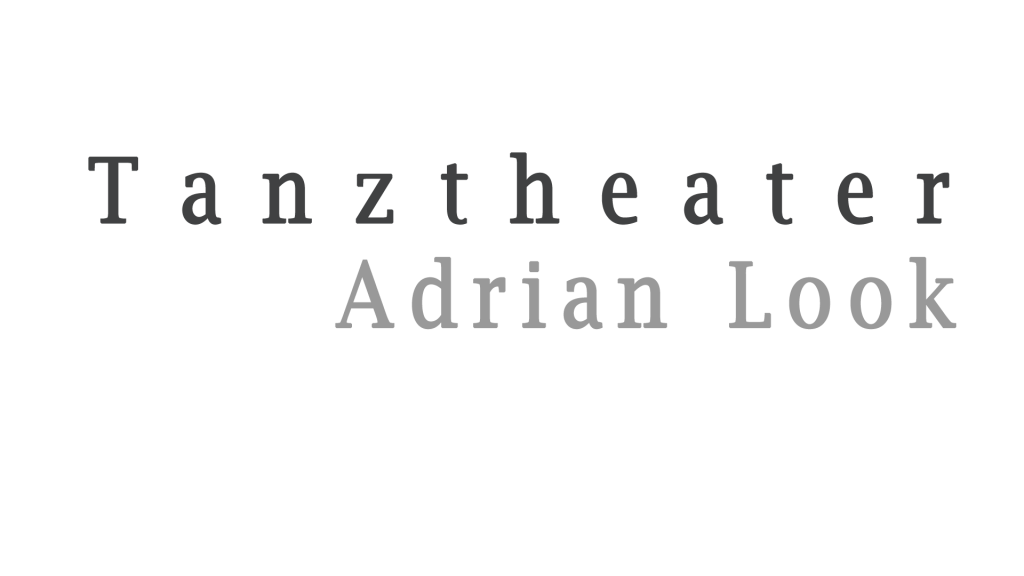 This website will be used for classes only from now on:
---
German Tanztheater with Adrian Look at The Place

Adrian is teaching a regular evening class at The Place, as part of their adult evening classes.
Term dates:
25 April – 04 July
Day: Tuesdays
Time: 6.30 – 8pm
Tickets:
http://www.theplace.org.uk/whats-on/german-tanztheater-level-12-adrian-look
Level 1-2: This class is for students who hold a basic understanding in contemporary or ballet and would like to develop their skills. The class will work further on technique and learning the dynamics of movement phrasing, building confidence and expanding knowledge and performance skills.
Class description:
A contemporary dance theatre class, inspired by Pina Bausch and the beautiful strength and artistic expression of German Tanztheater.
Following the tradition of German Tanztheater, we start with a contemporary barre consisting of easy foot exercises, flowing arm sequences, swings and shorter choreography-based exercises to place the body and prepare it for centre work.
The exercises and sequences in this class are very precise in dynamic, shape and intention.
The main goal, however, is to use the technique in order to express an emotional state. The class aims to let go of any unnecessary extras and consequently strives to use conscious and meaningful movements. This class is expressive, strong and artistic and will allow you to visualize your emotional state, let yourself go and experience your art on a deep level best described as: 'Loose yourself in Dance.'
Term Dates
---
 Classes at Morley College
(Weekly, Enrollment only)
---

Improvisation workshop about the approach of German Tanztheater (Pina Bausch)  at Siobhan Davies Studios


In May and June we will have two workshops about the imrovisation approach of German Tanztheater.

Learn the unique approach behind the beautiful expression of Tanztheater, most famously used by Pina Bausch.

Details:

Dates:

May 27
3.15 – 5.15pm

June 24
4.15 – 6.15pm

July 1
1.30 – 3.30pm at Morley College.
https://www.morleycollege.ac.uk/courses/2190-monthly-saturday-afternoon-dance-music-impro/3416)

Venue: Siobhan Davies Dance Studios

Price:
Combi ticket (Two dates, (May and June) : £25
Single date: £15

Alternative payment here: Pay online here

Tickets: Eventbrite / Bank transfer

---

Monthly Tanztheater technique class at
The Place

Dates:
May 6
June 3
July 1
Time:18.00 – 20.00
Venue: The Place, Studio 6

Price:
Combi ticket 1 (All three dates May – July): £25
Combi ticket 2 (Two dates until July 1st): £20
Single date: £14

Alternative payment here: Pay online here

Tickets: Eventbrite / Bank transfer

---
Archive:
---
Video of A Thousand Eyes:
 First short video of A Thousand Eyes
T a n z t h e a t e r Adrian Look is supported by One Dance UK and Morley College for this project.
Photo by Cristobal Catalan
A Thousand Eyes is funded by Arts Council England
---
Ease – Extract of Seize the Day
Event organiser: Movement for Hope
Choreographer: Adrian Look
Dancers: Maria Ines Sousa, Morena de Leonardis and Daniel Potter.
---

Seize the day at Sadler's Wells.
Seize The Day – Dance performance for a good cause at Lilian Baylis Studio – Sadler's Wells
Date: Friday 1st July 2016
Time: 19.15
Tickets: The ticket sales support people disabled by brain and spinal illnesses.
Tickets only available online at seizetheday2016.eventbrite.co.uk
£12 (£10) including the Q&A and programme
Venue: Sadler's Wells, Lilian Baylis Theatre, Rosebery Ave, London EC1R 4TN
Event organiser: Movement for Hope
Choreographer: Adrian Look
Dancers: Maria Ines Sousa, Morena de Leonardis and Daniel Potter.
Seize the Day is a unique patient and public engagement event developed in collaboration with researchers from UCL (departments listed below), Movement for Hope, and Tanztheater Adrian Look dance company.
After a very well received pilot performance on the 21st of June at the Bloomsburry Theatre we received fantastic feedback during the Q&A panel.
Event Video: https://youtu.be/Vwlcnp9gEV8
Easter Course at The Place
Adrian Look will be teaching two classes at this year's Easter Course at The Place (Euston).
Date: Saturday, April 2
Times:
10.00 – 11.30 (Level 1&2)
12.00 – 13.30 (Level 2&3)
Book early to avoid disappointment.
Level 1&2: http://www.theplace.org.uk/whats-on/german-tanztheater-adrian-look-level-1-2
Level 2&3: http://www.theplace.org.uk/whats-on/german-tanztheater-adrian-look-level-2-3
Friday, 29.01.2016 / 8pm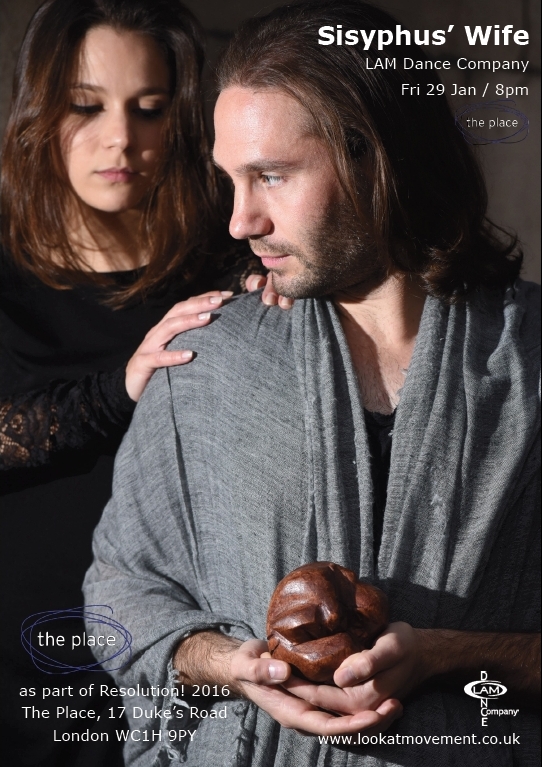 Resolution2016
Synopsis
 LAM Dance Company will perform the brand new piece "Sisyphus' Wife" on 29.01.2016 at The Place as part of Resolution 2016.
Maria Ines Sousa and Adrian Look will perform a duet telling a story of despair, purpose, choice and acceptance of fate; inspired by the 19th century Rückert poems about 'Weltschmerz' and 'The Myth of Sisyphus' by Albert Camus.
In the myth Sisyphus is punished for his self-aggrandisement by being forced to roll a boulder up a hill, only to watch it roll back down, repeating this action for eternity. Despite Sisyphus' eternal labour, Camus concluded: "One must imagine Sisyphus happy. Each atom of that stone, each mineral flake of that night-filled mountain, in itself forms a world.  All Sisyphus' silent joy is contained therein. His fate belongs to him. The struggle itself toward the heights is enough to fill a man's heart."
Adrian Look, director and choreographer, has set the piece in 2016, developing the eternal nature of the myth with the idea that Sisyphus is still engaged in his labour somewhere today. Using Gustav Mahler's "Rückert songs" and Max Richter's "Vivaldi recomposed", the piece explores Sisyphus' inner conflict – the seemingly futile nature of a task, which also provides him with a sense of purpose – along with his unknowing wife's battle for his burdened soul.
Following the premiere at Resolution 2016, the piece will be developed into a short film, to be directed by Cristobal Catalan. By being set in the North of England, the film will make comparisons between the myth and the industrial parts of this region, referencing the relationship between labour, identity and gender in a changing world.
First pictures are available here.
Photos by Carmen Klammer.
http://carmenklammerphotography.com
---
Special:
One day workshop at Morley College
On Sunday, 6. Dec 2015, Morley College will launch a one day workshop from 10.00 – 16.00 as a starting point for a longer course beginning next term, in which the full lenght choreography will be created.
Maria Vega, Adrian Look and Morley College are collaborating on a new dance theatre show called: A dancer's journey.
Four professional dancers will perform alongside dance students in a fusion of contemporary and flamenco/ spanish dance technique.
Two performances are planned for summer 2016.
On the same day Morley College is hosting a Winter Fair.
Maria, Adrian and Manu will perform extracts of the show.
http://www.morleycollege.ac.uk/events/show/2808_morley_winter_fair_2015
If you have some experience in contemporary dance and you enjoy performing, take a look at the website displayed and enrol online.
http://www.morleycollege.ac.uk/courses/dance/5723-contemporary_flamenco_study_project_initial_workshop_launch_project_contemporary_dancers
We will be happy to see you on the 6th of December at Morley College!
---

Summer Intensive Course:
LAM Dance Company is happy to announce the first
'Summer Intensive Course'.
Tickets: HERE
Versatility is a very important feature to have in nowadays dance world.
Thus we decide to offer a different style each day for one week to make you the complete dancer.
Classes run at The Place (studio 7) every day of the week from 18:30 – 20:00.
The schedule:
Monday         24.Aug –

Ballet

(intermediate level or higher)
Tuesday         25.Aug –

Contact Improvisation

(open level)
Wednesday 26.Aug –

Release Awareness

(open level)
Thursday       27.Aug –

German Tanztheater

(intermediate level)
Friday             28.Aug –

Choreography / Imrovisation

(open level)
Since we got a lot of requests for ongoing classes, this week could also be a starting point for a regular class if enough people are ready to commit to a weekly class.
Payment:
There will be four options:
All five classes regular – £50
All five classes concession – £40
Single class regular – £11
Single class concession – £9
Students, pensioner and people with low income are entitled to the concession rate.
Follow this link to get your tickets: http://www.eventbrite.co.uk/e/lam-dance-company-summer-intensive-tickets-18017301233
Job opportunities:
Various collaborators needed for LAMDC's upcoming production 'You say it best…'
LAM Dance Company is a fairly new dance theatre company based in London.
Following the tradition of 'Tanztheater' in Germany (Pina Bausch, Susanne Linke, Reinhild Hoffmann etc) LAMDC is dedicated to beauty and depth – both in technique and embodiment. The creation process strives to go deep into the essence of movements and expression.
Latest productions:
The smouldering delusion (2014) – Stratford Circus
Sick and Tired (2015) – Robin Howard Theatre at The Place
Then … again (2015) – University of Bedfordshire
The upcoming production 'You say it best …' will be a full length dance piece about the obstacles and power of communication.
Choreographer Adrian Look is looking for enthusiastic and passionate collaborators to join the team.
Applicants have to be interested in working as a collective and should be able to see the big picture and contribute to it with their expertise.
The aim is to build a strong team which shares one artistic vision.
LAMDC is particularly looking for experts in these fields:
Production manager
PR and Marketing
Funding (especially applying for arts council or other high budget organisations)
Composers
Singers/Musicians (especially drums, but also beatboxing, guitar, strings and keyboard)
Costume designers
Stage designers
General administration
Since LAMDC is not publicly funded all new productions can only be realised after a succesful funding application. Once successfully funded, all positions are paid positions according to the salary agreed to in the funding application.
It is important to us that you are interested in collaborating with LAM Dance Company because you share our vision and approach. The company is small and new so you will play a big part in shaping the future.
For further information, please take a look at the website:
http://www.lookatmovement.co.uk/lam-dance-company
Deadline for the application is 31st of May.
We will then be in touch to arrange a first meeting to discuss the following steps and everyone's involvement in this or other productions in the future.
Please express your interest by sending your CV and your
Field of expertise

General availability from July 2015 onwards (roughly)

General estimate of costs ( hourly rate or salary for a 6 week long project.)

Motivation (short statement of why you are interested in working with

LAMDC

)
to
info@lookatmovement.co.uk
We are looking forward to hearing from you.
Best,
Adrian Look ( Artistic director)
Adrian Look
LAM Dance Company , Flat 9 Ruvigny Mansions
Wandsworth
SW15 1LE
tel: 07506182562
email: info@lookatmovement.co.uk
website: www.lookatmovement.co.uk
---
Dance classes from April until July 2015:
---
---
Dance Theatre Course at Chisenhale Dance Space.
LookAtMovement classes are finally back!
We will run this 10 week course at Chisenhale Dance Space                      (Close to Victoria Park/ Tube: Mile End)
Book tickets here: https://guestlistapp.com/events/318117
NOTE: Course will only take place with 8 participants or more!! (deadline for application is APRIL 24th)

1 May 2015 – 10 July 2015
Days:

Friday

Times:

18- 20:00

Duration:

10 Weeks

Tutor:

Adrian Look

Location:

Full Fee:

£100

Concession:

£80
Dates:Fridays from 7-9 pm (unless otherwise displayed)
Friday: 01.May (7-9pm)
Friday: 08.May (7-9pm)
Sunday: 17.May (6-8pm) !!different day!!
Friday: 22.May (7-9pm)
Friday: 29.May (7-9pm)
Friday: 05.June (7-9pm)
Friday: 12.June (7-9pm)
Friday: 19.June (7-9pm)
Sunday: 05.July (6-8pm) !!different day !!
Friday: 10. July (7-9pm) sharing to a selected audience on JULY 10th
---
Crowdfunding- Campaign
LAM Dance Company is asking for your support for our piece SICK AND TIRED as part of Resolution! 2015
We tried to get public funding for this project, but unfortunately without success.
That is why we have started a crowdfunding- campaign to cover the basic costs for this production.
Any donation will help us incredibly much on our mission to establish German 'Tanztheater' in London.
The emotional and expressive approach of our pieces seems to be a great new addition to London's dance world. We found a niche and that is a great situation for us. Nevertheless we need supporters like you, who believe in the same vision.
This is the time to support us. We are very grateful for every donation.
Thank you very much!
 Resolution! 2015
When: Wed 28 Jan
Triple Bill: LAM Dance Company/ Coegi/ ODD company
£14 (£11 concessions)
Flyer is out!!
no images were found
28.01.2015 —– 'SICK AND TIRED'
Coming soon as part of Resolution! 2015:
Here are the first pictures of our wonderful photoshoot in a great location near London Bridge:
no images were found
---
Save
Save
Save
Save
Save
Save
Save
Save
Save
Save
Save
Save
Save
Save